Because I am of a certain age, I receive wedding invitations, wedding shower invitations, and baby shower invitations. This started about the time I turned 18, and downpour has yet to let up.
There are a few things that have never failed to upset me, and I can't imagine why any self-respecting person would do them.
Don't get me wrong; many of my friends have sent baby shower announcements and wedding invitations that were lovely, and even if I
tried
, I wouldn't find fault. But there are always a few…
At a former job in Florida, a coworker had a baby shower for her second child. Everyone was invited, and had brought gifts. When a girl friend and I showed up, the mother of the mom-to-be handed us envelopes. She told us to address them to ourselves, as they were for the Thank-You notes to be mailed later.
wtf.


The interesting part is that
nobody ever received any Thank-You notes at all
. Some people even spent a lot of money on lavish gifts.

But Laura, the price of the gift shouldn't matter.

You're right, but those people should have at least received the Thank-You notes that they had already addressed to
themselves
.
An out-of-state friend was having a wedding shower. The friend who was throwing it for her was someone I did not know. This person sent a wedding shower invite to me, and enclosed two different Registry Cards. In addition, there was a hand written note saying, "If you can't make it, here is the address where you should send the gifts."
Do I really need to go into detail about the obvious rudeness here? Needless to say, no gift was sent (I did bring several gifts to the wedding itself, and I paid a crazy amount in travel expenses, so I think I did the "good friend" thing sufficiently).
I take personal offense at
Registry Cards
.
Etiquette Fail.

I don't mind if a person is registered somewhere, but
proper etiquette dictates
that I call a friend, relative, or the person throwing the wedding/baby shower to find out
that sort of information
.
(By the way, it is horrible etiquette to throw your own shower. It means you are pathetic, and have no friends.)
Registry Cards included in invitations means one of two things:
"I am inviting you because I want a gift from you, and I don't trust your crappy taste in picking out something nice for me."
"I know you are too cheap to bring a gift, so I'm reminding you of your friendship duties."
It does not mean, "I enjoy our friendship, and I would love for you to share in my special day." That's what the
original invitation
meant.
Have you ever heard of the
money dance
? This is right up there with the money tree on my list of pet peeves. At another wedding*, men had to pay money to dance with the bride. Not only had the men paid money to travel to the wedding, paid money for hotel expenses, paid money for gifts, and paid money for tuxes, they now had to pay to dance with the bride? Woe unto those who didn't have cash on them!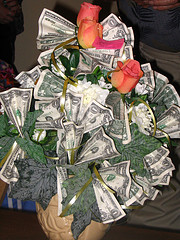 I could write a whole book on wedding/baby shower stupidity, but there are already several out there, as well as several
reliable websites
letting us know the proper way to behave.
Of course, I'm perfect, just as my blog readers are perfect, and none of us will ever do any of those things.


*I've been to a remarkable number of weddings.